THE CLAM
The Clam has lived peacefully in Jenoa for thousands of years but recently,
Maradans have been going deeper in Jenoa to steal his pearls, as they sell for large amounts of MP.
He is really very angry and will reward you for bringing back the pearls stolen from him.
The Clam needs your help. He has 30 different missions for you, each harder than the last.
You will need to find sushi for the lower levels and pearls for the higher levels and bring them back to him.
If you fail to bring any of them, you will have to start again.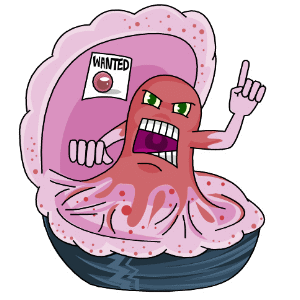 Click here for a list of pearls and where you can get them
No.
Cost
Prize
No.
Cost
Prize
No.
Cost
Prize
1
sushi


Wet Potato
2
sushi


250 mps
3
sushi


Pearl t-Shirt
4
sushi


500 mps
5
sushi


750 mps
6
2 pearls


1000 mps
7
2 pearls


1,250 mps
8
2 pearls


Underwater
Sword
9
2 pearls


1,500 mps
10
2 pearls


1,750 mps
11
2 pearls


2,000 mps
12
2 pearls


Underwater
Treasure
13
2 pearls


2,500 mps
14
2 pearls


3,000 mps
15
2 pearls


4,000 mps
16
2 pearls


5,000 mps
17
2 pearls

Underwater
Shield
18
2 pearls


7,500mps
19
2 pearls


10,000 mps
20
3 pearls


25,000 mps
21
2 pearls


Clam
Plushie
22
2 pearls


50,000 mps
23
2 pearls


75,000 mps
24
2 pearls


Sponge
Costume
25
2 pearls


100,000 mps
26
3 pearls


150,000 mps
27
3 pearls


Pearls
Stamp
28
3 pearls


200,000 mps
29
3 pearls


The Travelling
Pearl Book
30
3 pearls


Kronk Potion



250,000 mps
| | |
| --- | --- |
| | Sponge avatar gained from completing Mission 24. |
| | Clam avatar gained from completing Mission 30. |